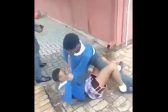 The Gauteng department of education has noticed a spike in the search and seizure of weapons and drugs at schools, following a scourge of violent crimes this year.
Education MEC Panyaza Lesufi was questioned by Democratic Alliance member of the provincial legislature and shadow education MEC Khume Ramulifho.
This follows the recent arrest of a 15-year-old pupil in Sebokeng, who faces a murder charge after allegedly stabbing another pupil in an unattended classroom.
"All law enforcement agencies have been granted access into the school premises and have intensified their operations of providing awareness, educational programmes and campaigns that are usually [followed] by search-and-seizure operations," said Lesufi.
"The department has noticed an increase in random searches and seizures of weapons and illegal substances, and there is more police visibility in and around schools."
According to Ramulifho, the department was lagging behind global standards when it came to school safety and required a more integrated approach.
Gauteng's government school safety strategy included educational programmes and it was also official policy that every school had an established safety committee in terms of the Occupational Health and Safety Act.
Ramulifho felt government needed to focus its resources equally on security, which matched the risks involved in the modernising school environment.
"I think, especially in Gauteng, the fact that we are investing a lot of resources into technology, which will attract criminal elements, there has been a huge failure on the part of government for not investing equally into school safety and security," he said.
He added policing efforts could be boosted by private establishments.
"We need to explore the option of [closed-circuit television] cameras and partnering with private security companies in areas which get targeted by criminal elements."
He criticised the current rate of random searches by law enforcement agencies.
According to Lesufi, an average of four random searches were conducted per district in a month.
For more news your way, download The Citizen's app for iOS and Android.