A Nigerian lady took to Instagram to narrate how a police woman allegedly harassed and tried extorting her while on her way to work in Abuja today, February 20.
@osehstella alleged that the police woman accused her of "beating" traffic which she said she never did because some Vehicle Inspection Officers were at the spot the security operative claimed the incident happened.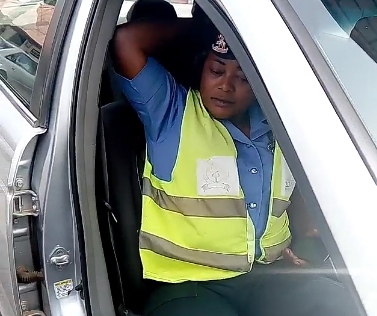 She claimed that the police woman who attacked her in the car, called her colleagues who came and pulled her number plate at work.
She wrote;
"Got harassed by police a police officer who claimed I beat traffic.
I was on my way to bannex, after FCDA traffic lights a police hillux blocked me and 3 police officers came down banging on my door with riffle pointed at me asking me to open my door.
I said no and asked why. And they the one with the riffle said I should just open I insisted on knowing why. A female officer among them said I beat traffic at Sahad junction and I told her I didn't because a VIO bike was parked there and I won't beat traffic and they let me go. They insisted and I said I can't let someone with a riffle into my car to avoid being shot at.
She came in and asked me to turn back towards FCDA I did. There's a mobile court there and she said if i stop there I'd pay big money.
That it's better I settle them.
I declined and then this drama started. She started switching my gear and dragging my steering saying she'd destroy my car. I had to keep calm and make make a video. It was terrifying I had to drive down to my office for my own safety
On getting to my work place her colleagues came and pulled out my plate number. Saying to deal with me. she kept pushing my door in an attempt to destroy it… All this happened because I refused to settle them for a crime I didn't commit."
see post below;