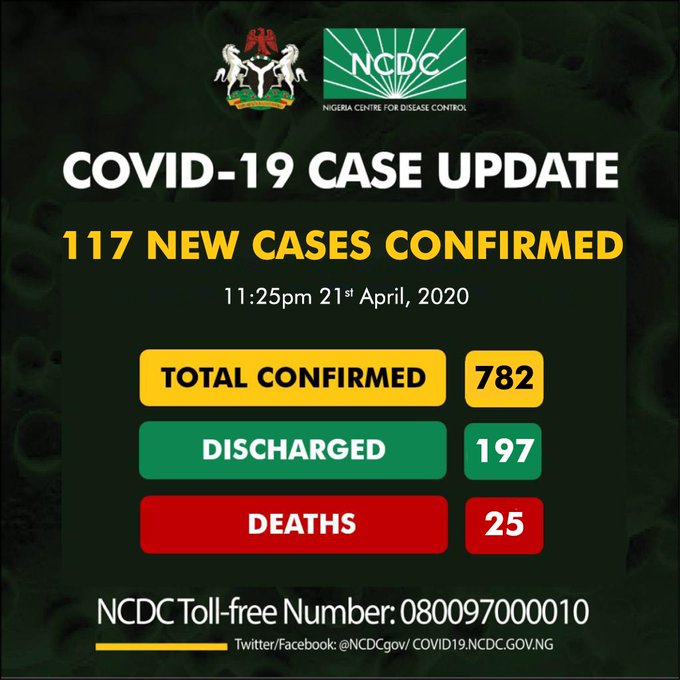 Nigeria has recorded 117 new cases of COVID-19. This brings the total number of confirmed cases in the West African country to 782, with 197 having being discharged and 25 deaths recorded.
The surge in the number of cases cannot be unconnected to the increased testing capacity of the NCDC.
The Nigerian Centre for Disease Control revealed this last night night on their social media pages :
117 new cases of #COVID19 have been reported;
59 in Lagos
29 in FCT
14 in Kano
6 in Borno
4 in Katsina
3 in Ogun
1 in Rivers
1 in Bauchi
As at 11:25 pm 21st April there are 782 confirmed cases of #COVID19 reported in Nigeria.
Discharged: 197
Deaths: 25
117 new cases of #COVID19 have been reported;

59 in Lagos
29 in FCT
14 in Kano
6 in Borno
4 in Katsina
3 in Ogun
1 in Rivers
1 in Bauchi

As at 11:25 pm 21st April there are 782 confirmed cases of #COVID19 reported in Nigeria.

Discharged: 197
Deaths: 25 pic.twitter.com/i6UaoqWHiu

— NCDC (@NCDCgov) April 21, 2020