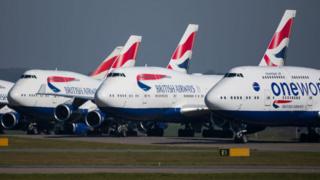 The British Airways has announced plans to do away with a huge number of it's staffs as a result of COVID-19 crisis.
The airline's parent company, IAG, said it had reduced passenger capacity for April and May by 94 percent compared with the same period last year.
This is coming after IAG lost about half a billion pounds in the first three months of 2019, with much heavier losses expected.
Recent weeks have seen the carrier, which has over 4,500 pilots and 16,000 cabin crew, only operating flights for essential travel and repatriation of tourists marooned abroad. And the firm has begun consulting with unions representing pilots, cabin crew and ground-based staff over redundancies for almost 30 per cent of employees in future.
The scale of the proposed redundancies indicates that British Airways intends to trim its flying schedule by one-quarter.
The Airway's CEO, Alex Cruz said:
"Yesterday, British Airways flew just a handful of aircraft out of Heathrow. On a normal day we would fly more than 300. What we are facing as an airline, like so many other businesses up and down the country, is that there is no 'normal' any longer.
"Our very limited flying schedule means that revenues are not coming into our business.
"In the last few weeks, the outlook for the aviation industry has worsened further and we must take action now. We are a strong, well-managed business that has faced into, and overcomes, many crises in our hundred-year history. We must overcome this crisis ourselves, too.
"We do not know when countries will reopen their borders or when the lockdowns will lift, and so we have to reimagine and reshape our airline and create a new future for our people, our customers and the destinations we serve.
"We have informed the government and the trade unions of our proposals to consult over a number of changes, including possible reductions in headcount."
British Airways has furloughed nearly 23,000 staff under the government's Job Retention Scheme.
IAG, which includes Aer Lingus, Iberia of Spain and the low-cost carrier, Vueling, said: "Recovery to the level of passenger demand in 2019 is expected to take several years, necessitating group-wide restructuring measures."
Mr Cruz said: "There is no government bail-out standing by for BA and we cannot expect the taxpayer to offset salaries indefinitely.
"Any money we borrow now will only be short-term and will not address the longer-term challenges we will face."