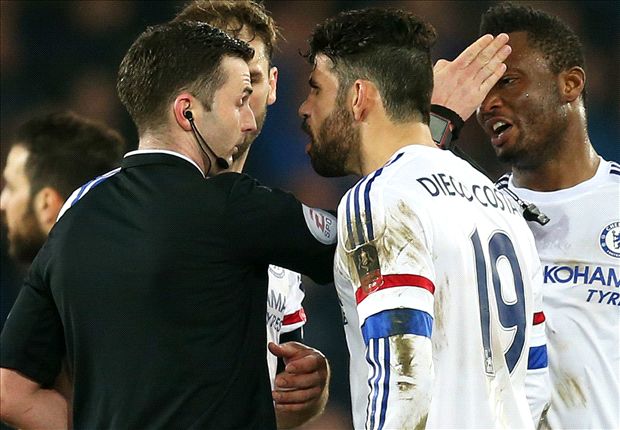 Chelsea striker Diego Costa has been charged with improper conduct for his behaviour after receiving a second yellow card during Saturday's FA Cup tie against Everton.
The Spain international was accused of attempting to bite Gareth Barry after being fouled during the 2-0 defeat.
Costa and Barry both later denied there being any bite but the Spaniard will nevertheless face further examination by the Football Association for his actions in addition to the ban he will receive for being sent off.
"Diego Costa has been charged in relation to Chelsea's FA Cup sixth round fixture against Everton on Saturday 12 March 2016," an FA statement reads.
"It is alleged his behaviour, after being shown a second yellow card in the game, amounted to improper conduct.
"He has until 6pm (GMT) on Thursday 17 March 2016 to respond to the charge.
"Meanwhile, the Chelsea striker has until Wednesday [16 March 2016] to provide his observations to The FA in relation to an alleged gesture he made towards Everton supporters while leaving the pitch at half-time."