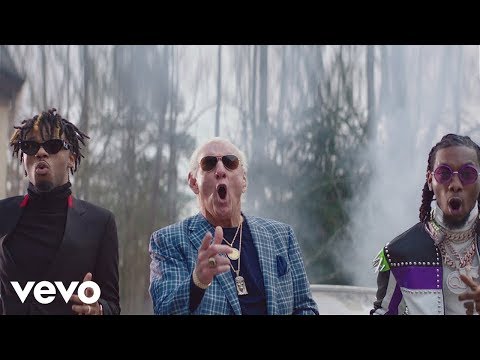 Ric Flair teaches Offset, 21 Savage and Metro Boomin how to stunt.
The Without Warning standout has finally landed some well deserved visuals. And let it be known – this might be 2018's early contender for video of the year. While the song relied on Ric Flair's legacy, the video takes the drip to another level. The legendary Ric Flair is all over this one, stunting alongside the rappers, looking like a sheer natural; while a cameo was always suspected, they went the extra mile here, going so far as to give him a spoken interlude. It's a good look for Offset, 21, and Metro Boomin, who continue to prove that Without Warning was one of 2017's most overlooked surprises.
As is often the case with Migos-adjacent visuals, a lavish lifestyle is once again celebrated. 21 Savage leads a high-roller game of dice, while Ric Flair seeks the perfect outfit to compliment his watch. Hats off to the gentlemen who made this one happen.